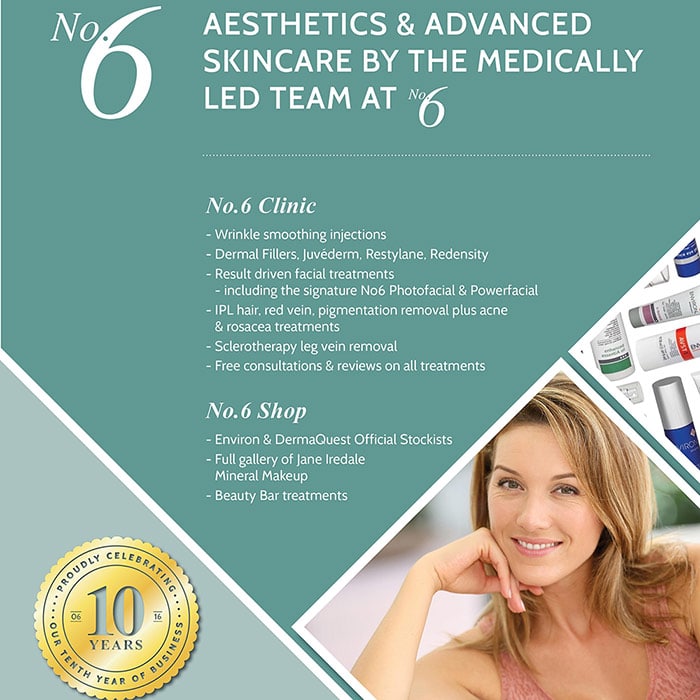 Some cosmetic procedures do not involve surgery, but this does not mean they're without risk! Cosmetic injectable treatments should only be carried out by an appropriately trained Doctor, or registered Aesthetic Nurse in a clinical environment. The General Medical Council rule that Doctors must initially meet patients face-to-face before prescribing anti-ageing injectables to make sure they fully understand their medical history and reasons for wanting the treatment. After the initial treatment, registered Aesthetic Nurses can then administer the following but the Doctor always needs to prescribe. Others offering injections do not have the necessary skills, training, qualifications or understanding of your facial structure.
With a growing demand for injectables treatments, it has been worrying for No.6's Doctor Gilani, and Aesthetic Nurse Samantha, to have seen the media uncover people purporting to be registered professionals carrying out non-surgical treatments. As a result, there is a growing demand for clear legislation to protect patients and underpin the work of reputable cosmetic medical professionals.
No.6's onsite Doctor, Natasha Gilani, is a practising General Practitioner and Medical Cosmetic Specialist who is an expert in her field and has trained with many of the world's leading cosmetic specialists for the past 12 years. She would never advocate a treatment that had not been shown to be safe and effective.
She will see you at the initial consultation, carry out the injectable treatment and invite you back for a free follow-up appointment to ensure that you are satisfied, and that her own high standards have been met. This constant client care is existing for all No.6 treatments from each of our dedicated team members,
Our other cosmetic treatments, such as facial peels and microdermabrasion, are also carried out by trained and experienced Aestheticians under No.6's medical supervisors. And the same applies for the stock we sell; Leading cosmeceutical brands, Environ and Dermaquest, are only available from suitably qualified medical professionals, through an authorised stockist with a trained consultant available at the point of purchase to answer your skincare concerns or product queries.
Aesthetic Nurse and No.6 Director, Samantha Clarke commented; "Here at No.6 Clinic we are a doctor-led clinic of quality care and professionalism. It is important to remember that we are dealing with medical, not just cosmetic, treatments, and that they are treated as such.
Whether it be injectables, facial treatments, or that you want to simply purchase a new moisturiser, we understand that your skin is precious and therefore our ethos is to serve each individual client to the highest of standards. I am proud to have worked with Doctor Gilani for the past 10years and we are looking forward to our No.6 future. "
For more information, or to book in for a consultation, please call 01892 506930 or pop into The No.6 Shop, 77a St John's Road, Tunbridge Wells. www.no6clinic.co.uk