Wrinkle smoothing injections
Making the decision to have aesthetic injectables needs to be made very carefully with an open, honest discussion with your cosmetic doctor or aesthetic nurse practitioner.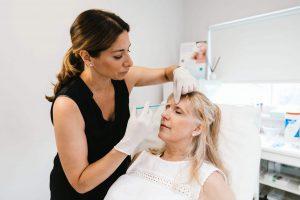 Wrinkle smoothing injections / Anti-Wrinkle Treatments
Dr Natasha Gilani holds weekly Wrinkle smoothing injections clinics at our Tunbridge Wells Clinic on Tuesdays and Fridays and occasional Saturdays.
No.6 Clinic® is BY APPOINTMENT ONLY, please book online via the online booking on this site.
On your first visit to No.6 for a Wrinkle smoothing injections treatment you need to book in with Dr Natasha Gilani as a NEW patient.
Muscle relaxing injections primarily used to soften facial expressions to leave you looking refreshed. Mostly used around the frown area, eye area and forehead but can also treat the upper lip, neck and chin areas. It has also been used to effectively treat tension headaches. Can be used alone or in combination with other injectable treatments.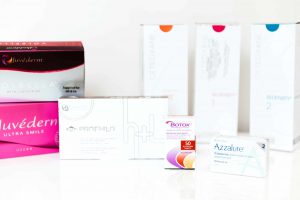 Price per treatment 1ml syringe £200
3 treatment course £550
Areas Treated: Face, Neck, Chest & Hands.
Redensity 1 is a medical grade injectable treatment that works to restore hydration, skin tone, and elasticity, whilst helping to stimulate collagen production.
Initially 3 1ml syringes at 3/4 week intervals. £550. Top up 1ml syringe recommended every 6 months to maintain the result.
£350 per treatment

The Tear Trough is a groove that develops between the eyelid and the cheek. As we age we loose facial volume and elasticity, one of the changes which is commonly noticed is the appearance and gradual worsening of dark circles and 'trough like' hollows under the eyelids. Surgery to rectify the problem is not always. Therefore with minimal recovery time and outstanding results, Tear Trough Fillers can be the ideal treatment.

Results visible immediately and lasts an average of 12 months. Redness and bruising may occur.
Prices from £150

Hyaluronidase is an FDA approved injectable solution which scan help the breakdown of Hyaluronic Acid.
Hyalronidase works to breakdown Hyaluronic Acid-based dermal fillers and is a solution for those wanting to reduce the effects of a previous cosmetic injection.
Hyaluronidase is usually sought after by those who are unhappy with a previous injectable procedure. Often clients have previously visited clinics and feel unhappy with their results,leaving the client unhappy and self conscious of their new look.
Fortunately Hyaluronidase is able to help reduce the effects of previous filler that has been injected. The solution is injected into the treatment area and the effects can be seen after several minutes, with optimum results being visible after a few days.
The 8-point Facelift uses the latest generation of Hyaluronic Acid (HA) Fillers to redefine, rejuvenate and subtly enhance your facial features. The 8-point Facelift also known as the Liquid Face Lift is a non-invasive, non-surgical face-lift that offers a subtle more youthful appearance with almost no recovery time.
As we age, facial volume significantly decreases. The main signs of ageing occur because of volume loss, re-positioning of facial fat and skeletal remodelling. This innovative facial treatment produces a more youthful look by restoring volume, proportion and symmetry to the face.
Using an advanced technique, precise areas of the face are targeted with dermal filler for a total facial rejuvenation. The areas targeted are those where greatest volume is lost, each point having a synergistic effect on the others, contributing to an overall enhanced appearance.
Frequently Asked Questions
Medically lead friendly team consisting of highly trained and experienced cosmetic doctors, nurses and aestheticians. We offer aesthetic injectables and advanced facial treatments treatments in a safe clinical environment in Tunbridge Wells.