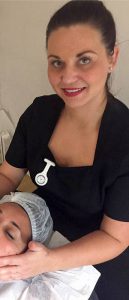 Emma May, our Senior Beauty Therapist, qualified over 16 years ago. She went straight from school into college and over the years has continued to train in various products, treatments and techniques.  Originally Emma wanted to be a makeup artist which led her down the beauty route, a path she is so grateful to have taken. It is clear to all that Emma loves her job, as an experienced beauty expert she specialises in Lycon wax, back massages and nail treatments. As a Beauty Therapist she is delighted to be working at our twice award winning 'Best Beauty in Kent' salon.
Emma constantly strives to better herself in her profession and decided she needed a new challenge. Emma has come to No.6 as somewhere new to extend her knowledge of advanced skincare and is really enjoying seeing client's enjoy their results.
60 seconds with Emma!
How long have you worked at No.6 for? I started working at No.6 in December 2017, just before Christmas.
What do you enjoy most about working at No.6? The learning part of it. I have recently been on the Dermaquest training programme and really enjoyed learning about the products and treatments. I had the Dermaquest Pumpkin Peel as a facial the other day and my skin feels amazing!
What is your favourite treatment? Oooh, I like them all!
What is your favourite beauty product?  Environ's AVST and the Eye Creams. I trained in Environ around 12years ago and have worked alongside the products many times since. I highly recommend them.
What is your no.1 beauty tip/skincare tip? Use salicylic acid on spots and ingrown hairs. It works a treat and can give results within a few days.
Emma is available for bookings on Tuesdays, Thursdays and every other Saturday.