Clients and locals got in the spooky fundraising sprit when they joined the skincare experts at The No.6 Clinic and Shop.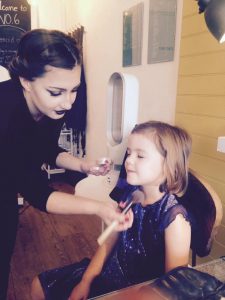 On Saturday 31st October, The No.6 Shop, along St John's Road in Tunbridge Wells, welcomed all for 'Vamp It Up' makeup tutorials and children's Halloween inspired face painting, using the Jane Iredale pure mineral range, which they are proud to be an official and authorised stockist of. Makeup so scarily good that it is actually classed as skincare, and is ideal to use on all skin types and ages – without blocking pores or bringing your skin out in a fright!
A raffle with three thrilling prizes from No.6 were up for grabs for adults to enjoy, whilst children loved the spooky lucky dip and lolly game. The day proved to be so popular that the Shop stayed open 2hours after they were due to close!
The Team at No.6 are delighted to announce that they raised £150 for Hospice in the Weald, and would like to thank everyone once again for their support.