Every successful skincare routine factors in daily-use products, cleansers, toners, moisturisers, eye gels and SPF products, but in order to give your skin that extra boost you should apply a face mask once a week at home. (You can use it more than that depending on your skin's needs).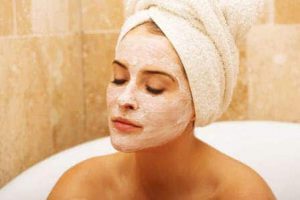 Here at No.6 we have seen a rise in people wanting face masks and coming back once they reach the end of the bottle! The right mask for your skincare concerns can help boost your other products, as well as extracting impurities in between clinic facial treatments. The two home maintenance products listed below not only are suitable for all skin types but will allow you to pamper yourself in the comfort of your own home! Fantastic value product which last 6-9 months after weekly use!
Dermaquest TX Mask – This lavishing mask is packed full of Vitamin C, Alpha Lipoic acids, antioxidants and peptides. Perfect to use once or twice a week to boost your skincare regime and before an evening out to give a beautiful healthy glowing complexion. The Vitamin C stimulates collagen production to plump out lines and wrinkles whilst this mask hydrates and soothes. £39.00
DermaQuest Advanced Therapy Mini Pumpkin Mask – Using pumpkin pulp as its main ingredient which is antibacterial and rich in enzymes. This mask is highly rejuvenating and brightening, helps to reduce breakouts and unblocks pores. £35.00
Run yourself a warm bath, put on some soothing sounds, light a No.6 candle, apply your new skin best friend and enjoy….
No.6 Shop open Mon-Sat 9.30-2.00, No.6 Clinic by appointment only 6 days a week. Weekend and evenings available.