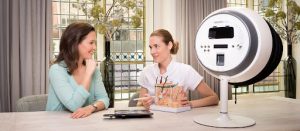 Our medical aesthetic clinic No.6 Clinic and our sister company for online sales, SkinAddict, we are proud to be authorised stockists of many of the leading 'CLINIC ONLY' brands plus Obagi Ambassadors and Environ Platinum Partners, built up over 20 years at No.6 Clinic by owner Skin Specialist Nurse Sam.
We're excited to announce a whole new skin discovery experience which will show in-depth analysis of your skin at all levels with the high tech Observ skin scanner. This ensures you don't make mistakes buying the wrong skincare products and will address any concerns you may have. All our brands are clinically proven to treat acne, rosacea, hyperpigmentation, scarring, dehydration, and premature aging. Suitable for ladies and gents, plus teenagers over 14yrs with parental consent.
This 45 minute session will include:
An in-depth skin analysis using the high tech Observe facial scanner. This diagnostic imaging device visualises your skin including the underlying "invisible" layers meaning you will have a clear understanding of your skin. It takes pictures so that we can monitor your progress every 6-8 weeks.
A skin peel to suit your skin type.
A fab Goodie bag.
Cost £100 (refunded on purchase of a  bespoke skin program £120+)
Dispel skin myths and misinformation for good, the skin experts at No.6 Clinic & SkinAddict will provide 100% accurate advice & recommendations.
Your skincare journey STARTS HERE!
Stay tuned and set your notification alerts on our social media accounts No.6 Clinic and SkinAddict, plus subscribe to our regular weekly emails from the SkinAddict  team providing skin tips, offers and discounts!
Make a day of it in St John's! Come with family or friends and sample the large array of independent shops, bars, restaurants and cafes. Coupled with the cheapest public car park in Tunbridge Wells plus great public transport links.
Groups welcome to book appointments together for demonstrations on how to apply products correctly and we can also arrange refreshments and snacks!
Please contact Sam for exclusive use bookings, great for birthday's and hen do's!
Booking will be available online from 1st January here under consultations.