Celebrations were in order at No.6 after scooping the top honour, for Best Beauty, in a Kent Award. Established this year, the awards were organised by Editor Ali and her team at Muddy Stilettos, a urban lifestyle blog. Their honest and upbeat style for supporting local independents, since establishing in Oxford in 2011, has made many fall in love with their posts. The awards saw over 800 businesses enter, which after an initial round were whittled down to 150 finalists in 30 different categories.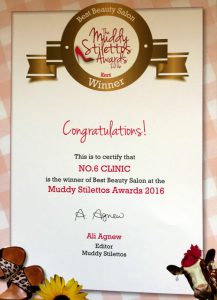 Flattered to be recognised for the service we offer, this award has been made even more special by being presented during our 10th year of business. Since 2006, Samantha has built No.6's foundations for anyone wanting to achieve and maintain healthy, youthful looking skin. Nurturing clients to embrace age and skin wellbeing has seen No.6 establish a reputation for offering supportive and honest advice from experienced and dedicated professionals.  Our unique Clinic in Tunbridge Wells prides itself at being at the forefront of advanced facial treatments and aesthetic injectables. And our Shop, along St John's High Street, which opened in 2014 has since become the ultimate destination for clients' beauty and skincare needs, working alongside exclusive product ranges such as Dermaquest, Environ, OPI, Sienna X and Jane Iredale mineral makeup. Our unique formula is now attracting clients to travel from as far as London, as well as welcoming loyal local clients from across Kent.
We also were delighted to share our success with our neighbours. Success was all round for Tunbridge Wells as 33 businesses reached the finals, with 10 winning their category, more than any other town in Kent!  We couldn't be prouder to be part of a thriving town of local independent retailers.
On Thursday 16th June, Samantha and Bethany, our Clinic and Shop Manager, were invited to celebrate at Hush Heath Winery in Staplehurst, a beautiful setting for mingling with the other finalists. We would like to thank Muddy Stilettos for arranging the awards and for a fantastic evening out.
Samantha and the team were overwhelmed by the amount of support received throughout the two stages of the competition and would like to thank everyone who voted. A phenomenal 16,000 people voted in the live finals, making our win a real accolade.
To all our clients, we look forward to thanking you in person and to everyone else, we look forward to welcoming you to our **award winning** salon soon.